What is Pore Pressure?
Pore pressure is the pressure of fluid in the pore space of rock, and when it exceeds the hydrostatic pressure, an overpressure situation occurs.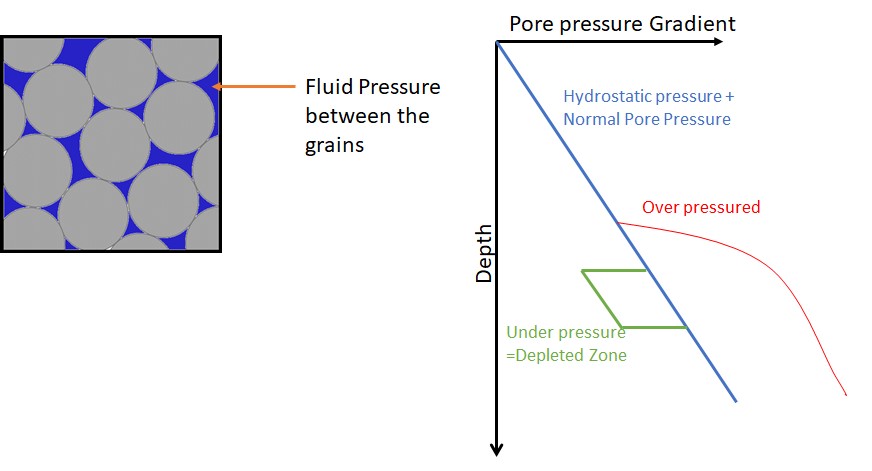 Pore pressure definition and different pore pressure regimes (Normal, under and over pressure)
Pore pressure in the sediments can be over pressure, under pressure or normally pressured. Normal pore pressure scenario happens when the pore pressure in the sediment is equivalent to the hydrostatic column of the water at that particular depth. Under pressure can be the outcome of production from that particular formation and depletion. Overpressure scenario can happen by several phenomena and in general can be categorized in two: Type 1 and Type 2 over pressure regimes.
Type 1 over pressure are related to porosity of the formation
Type 2 Over pressure are not related to porosity of the formation
Depending on the type of the overpressure mechanism, several methods have been established to handle the estimation of pore pressure such as The ratio method, Eaton's method, Effective stress methods and Bowers method.Type 1: Sediments are getting less compacted than expected due to several factors:
Rapid Sedimentation
Thick shale intervals
Low permeability
Highly compressible rock
Type 2: There is no relation between overpressure mechanics evolution and porosity and over pressure could be due to:
Shale uplift
Source of fluid
There is no proper channel that fluid pressure escapes